Jurassic World: Dominion Dominates Fandom Wikis - The Loop
Play Sound

Not to be confused with the deuteragonist of Airplane 3 and 4, General Poncho.

Ponchokings (also known as Game Creator in Starblox or just simply Poncho) is a Mexican roblox developer and streamer and the creator of the Airplane franchise.
History
Ponchokings, as a teenager, enjoyed playing Roblox, and was eager to finish school to be able to go home and play.
Eventually, he learned that Roblox also allowed him to create games, which inspired him to become a successful Roblox Developer publishing his first game Hello Penguin which had poor success.
However, after trying, he learned the hard way how challenging it was, and as a result of attempting to pursue his dream, started failing in class.
Never being fulfilled with himself, and urged by a teacher to change, Ponchokings quit Roblox and started to focus on real life.
Ponchokings then got a job, and was able to sustain himself, but was still never really satisfied.
Then, he decided to return to Roblox and gave it another chance, this time worried only about finishing.
Finally, he finished his game, and released Airplane to the servers.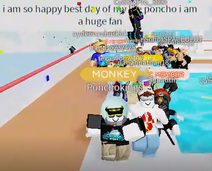 The game received high amounts of visits, and Ponchokings, inspired by its success, quit his real job and focused solely on making games, going on to release Airplane 2 to similar response, then, with even more motivation, continued to release Castle, Airplane 3, Cruise, Intruder, Super Size Obby, Age Simulator, Airplane 4, Starblox, Platform Madness, and Pet Story.
Also, he occasionally makes some live streams on YouTube. He usually either plays his own games or other adventure games with players.
Social Media Accounts/Websites
All links that are listed below can also be found here on Linktree
Cameos
He makes multiple cameos on gamepass and badge covers.
Ponchokings is hidden aboard the Carnival Cruise as a cameo.
On the very aft side of Floor 2, the player can walk through the wall opposite the Staterooms sideways, leading to a room with Ponchokings, a thank you message from him, and a large amount of Cruise Bucks. Reaching this room earns the player the "You found the creator!" Badge.
In the crowd during the celebration in the Good Ending, he makes a cameo appearance. His cap and glasses also appeared on one of the wardrobes in the house.
Ponchokings appears in the lobby for Starblox Stories dressed in the same clothing as Hunter. If a player talks to Ponchokings, he will say "Episode 2 is being worked on!", meaning that Starblox's sequel is coming soon.
Ponchokings makes a cameo in the beginning of the story being a garbage man hinging onto the back of a garbage truck. He also later appears walking in the city as a business man after the pets escape the city dump.
Trivia
Ponchokings signature cap and sunglasses can be found in multiple Roblox games.

They can be seen in the Storage Room in Airplane 3.
They can be found in a wardrobe in Airplane 4: One Last Flight.
They can also be found in the Roblox game "Daycare 2", where they are hidden inside a wardrobe.

His previous Roblox usernames were "yoshiwars" and "Drogb4".
He is 174cm or 5.7 feet tall
He can be seen in the story game called "Magic Show" where he's sitting in Freddy's Pizzeria reading a book about Airplanes.
His Favorite Letter is E.
Ponchokings is indicated not to have good grammar. A few examples are listed below:

"Goggles" as "Googles" in both Intruder and Pet Story (Lab Ending).
Opening in Pet Story, Slicer says "LIER" instead of "LIAR."
Airplane where during the Solo Ending where the sole player says "I'm the choosen one!" instead of "I'm the chosen one!"
Ending of the Zoo Ending where Pannie says "Greatful" instead of "Grateful."
Gallery
External links