Jurassic World: Dominion Dominates Fandom Wikis - The Loop
Play Sound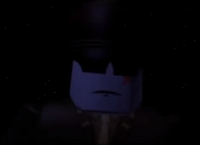 Archived
"I know Halloween Ending is proud. Wherever they are..."
This page talks about something that is no longer accessible or has been removed, thus is archived. You can still feel free to edit the page down below.
"MUAHAHAHA! SWEET DREAMS!"

Headless Horseman, Airplane 2 Halloween Event
The Halloween Challenge was an event in Airplane 2 and Airplane
that took place from October 25-31, 2019. The badge and Ending is no longer earnable, as the event only lasted that time.
Accessing
During this time, a pop-up appeared when the game started, allowing the player to choose to participate. After the Turbulence Challenge, those players will see the plane shake, along with an orange light, while the Headless Horseman says the above quote.
Intro
The players are then teleported to the event realm, a forest area with a crashed plane in a clearing, with a red fog. The Horseman properly greets them, saying the players are in his dream. He then says that to get out, they must find all his pumpkins before he takes their head. He then laughs again, and heads out to kill the players.
Gameplay
The players must find and click on all 5 pumpkins hidden in the woods. While they are doing that, the Headless Horseman continues to attack random players on the server by slowly moving alongside them, and then attempting to dash through them, taking about 3/4 of their health.
Ending
After all 5 pumpkins are found, a cutscene plays, showing the player's head on the Headless Horseman's bundle. The game then ends with a unique screen saying, "HAPPY HALLLOWEEN"